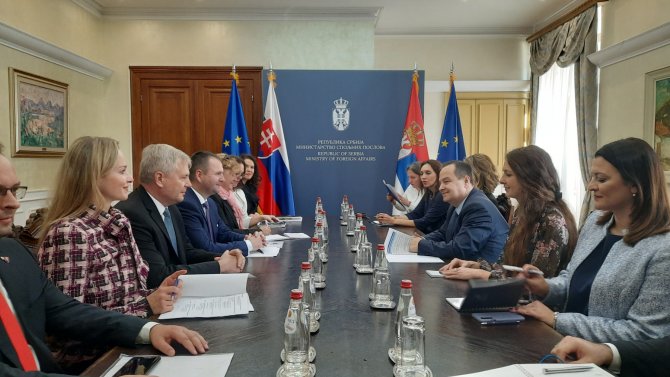 First Deputy Prime Minister of the Government of Serbia and Minister of Foreign Affairs Ivica Dačić received today a delegation of the Foreign Affairs Committee of the National Council of the Slovak Republic led by the Committee's President, Marián Kéry, on a courtesy visit.
During a cordial conversation, it was mutually assessed that bilateral relations of the two countries were traditionally good and friendly. They pointed out the necessity of their deepening and further strengthening in all areas of common interest, especially in the economic sphere.
The interlocutors expressed their satisfaction that the two countries had a continuous political dialogue at all levels and were ready to intensify it in the coming period.In this regard, the belief was conveyed that the upcoming visit of the Prime Minister of the Slovak Republic Eduard Heger to the Republic of Serbia would provide an additional impetus to the further deepening of comprehensive relations and cooperation between the Republic of Serbia and the Slovak Republic.
Minister Dačić pointed out that Serbia especially highly valued Slovakia's principled support for the territorial integrity and sovereignty of the Republic of Serbia and finding a sustainable solution to the issue of Kosovo and Metohija.
President of the Foreign Affairs Committee of the National Council of the Slovak Republic Marián Kéry conveyed the readiness of the Slovak Republic to continue intensive communication and cooperation with the Republic of Serbia in all fields. He particularly advocated for the intensification of economic cooperation, as well as a more noticeable presence of Slovak businessmen on the Serbian market. Kéry noted that Slovakia remained committed to its principled position not to recognise the unilaterally declared independence of Kosovo, as well as that his country would continue to provide full support for the European integration of the Republic of Serbia in the future. He expressed satisfaction with the position and treatment that representatives of the Slovak national minority enjoy in the Republic of Serbia and expressed his expectation that such quality of relations towards them would be preserved in the future.
14. Nov 2022.