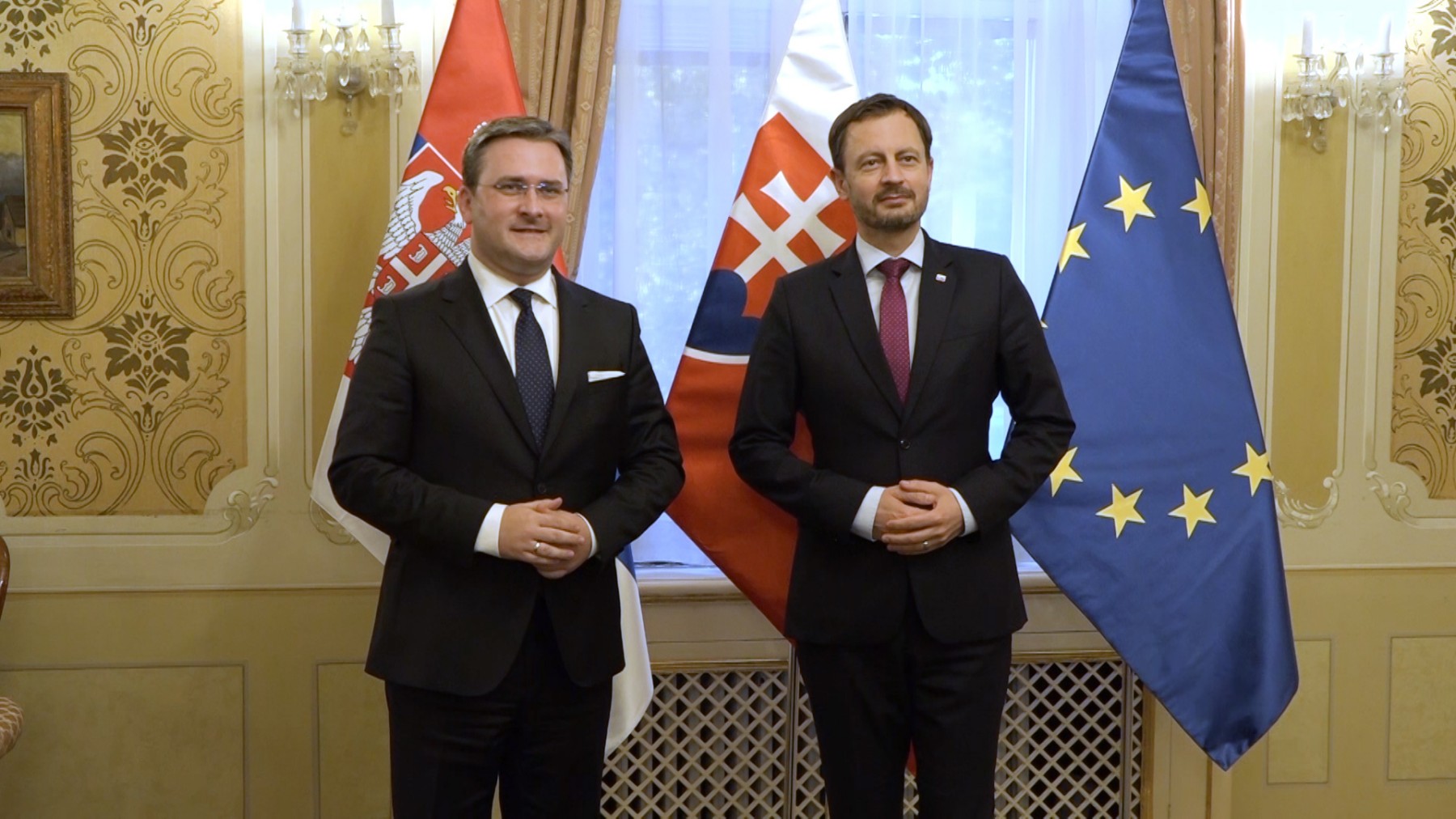 During the first day of his official visit to Bratislava, the Minister of Foreign Affairs, Nikola Selaković, met with the Prime Minister of Slovakia, Eduard Heger.
After the meeting, Minister Selaković said that Slovakia continues to provide strong and principled support to Serbia on the issue of preserving our territorial integrity and sovereignty, with support for the continuation of dialogue between Belgrade and Pristina, in order to find a compromise solution to the Kosovo-Metohija problem.
The head of Serbian diplomacy also emphasized Slovakia's firm and unequivocally clear support for Serbia's efforts to achieve its strategic goal, which is EU membership.
Summing up the first day of his official visit to Slovakia, Minister Selaković said that he had extremely good talks with his Slovak colleague, Ivan Korčok, and with the Vice President of the National Assembly, Milan Laurenčik.
He conveyed that the issues discussed at the meetings were also the need to deepen our economic cooperation, as well as the fact that there is a lot of untapped potential for cooperation between Belgrade and Bratislava, as well as between the business communities in Slovakia and Serbia.
Minister Selaković stated that Slovakia, together with Poland, the Czech Republic and Hungary, was among the first in Europe to support the initiative of President Aleksandar Vučić "Open Balkans".
"Taught exactly by the experience of Slovakia, as a good example of a country that has experienced an absolute economic and social revival with its accession to the EU, we can learn a lot and we are ready to learn further", said the head of Serbian diplomacy. Minister Selaković stated that he had reached a concrete agreement with Minister Korčok to organize a serious business forum in Veliko Gradiste next year, where he would host a significant number of Slovak businessmen, point out the comparative advantages for investing in Serbia and justify Serbia's reputation as one of the best investment destinations in our part of Europe, but also beyond".
"Wanting to promote Serbia outside our capital, outside Belgrade, we agreed with Minister Korčok, and informed the Prime Minister of Slovakia about it, that we plan to hold a serious business forum at the beginning of next year", said the head of Serbian diplomacy, adding that they talked about holding the business forum on the banks of the Danube, in order to promote that beautiful part of Serbia, to which we are building a fast road from Pozarevac through Veliko Gradiste to Golubac and further to Donji Milanovac.
"Good first day visit. More meetings await us. After today's meetings, I am going tonight to a mini business forum organized by our embassy here in Bratislava, where we expect about 15 serious Slovak companies that express readiness and will to come and invest in Serbia" summed up Minister Selaković, the first head of Serbian diplomacy who is on an official visit to Slovakia after more than ten years.
Minister Selaković said that we should not wait for the next ten years for the next official visit, and added that today's meeting with Minister Korčok was their fourth meeting this year.
"We will continue to cultivate and improve this cooperation", concluded Minister Selaković.
28 October 2021